Well, my trading partner and I have personally rode the crypto markets for profits up to $55,985 — more than DOUBLE our money!
And this time I want YOU to join me to potentially profit from what could be the best crypto trade of December 2023
We're talking about a single crypto breakout event that could make meme stocks seem like small potatoes.
Specifically, I'm talking about a crypto trade of the century…
A small "alt coin" in the crypto markets that could be the NEXT Bitcoin… or the NEXT Ethereum.
And a crypto that could soon explode in price, handing brave early movers — like you — a huge tactical advantage.
This Crypto is Poised For Liftoff!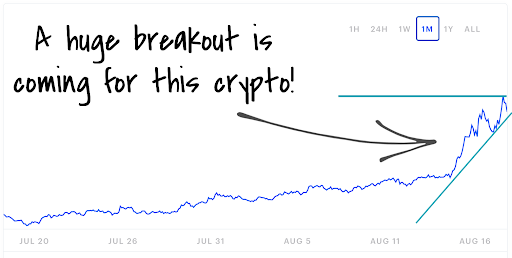 The last time I saw a setup like this, my trading partner and I …
Walked away with a $55,985 profit – that's a 138% gain
Banked a $32,482 profit on OMG – that's over a 34% gain
Booked a profit of $23,923 – a 56% gain.
Got out of NU with a $17,258 profit – an almost 70% gain.
Then, on STORJ, we made a $15,946 profit… a 43% gain.
Now, for all the obvious reasons I won't reveal the full details about this trade on this page...
If I did, this trade could go viral, and we could see the price of this coin go to the moon before we're able to get in!
So here's the deal:
This

Thursday, December 07, 2023

at 1 PM Eastern, I'm hosting a live webinar to cover everything about this crypto trade
And I'm allowing just 100 readers to grab a ticket and join me for this live trading session.
I'll show you the trading setup…
I'll show you why this crypto is on the cusp of a huge breakout that could put profits in your pockets…
And, of course, I'll give you the name of the crypto, and specifics on how I'm personally going to trade it for a potential fortune.
Best of all, you can get access to this live crypto trading session on

Thursday, December 07, 2023

, at 1 PM Eastern, for just $5!
Yes, you heard me right — just $5 to get the name and full details on this trade!
You also get a full hour's worth of training from me and my partner on how to trade the crypto markets for fun and profit…
You get to ask me all your most pressing questions, and have me answer them LIVE on our session…
And then book your calendar, because…
We'll be going live EVERY Thursday at 1 PM for the entire month!
See, the crypto market's NOT slowing down…
And neither am I — I'm NOT stopping with just this one trade.
And neither should you.
I want to give you ALL my best ideas every Thursday at 1 PM during these live training sessions.
You'll get actionable trade ideas, too, that could be the seed of your next $25k...$50k...or even $100k trade!
Just fill out the form below and I'll send you a ton of bonuses for more than 95% off what I'd typically charge!
Tons of Bonuses When You Act RIGHT NOW!
For just $5 you'll get…
LIVE CRYPTO TRADING AND TRAINING SESSIONS EVERY THURSDAY AT 1 PM, EASTERN :
You'll have VIP access to me and my team through these training sessions every Thursday for the month!
VALUE: $997 Per Year
"After Action Review" Sessions
Miss a live session? No worries. We'll recap everything we cover and send an after action review recap straight to your email!
VALUE: $497 Per Year
VIP Customer Care
Have a question? Need urgent help? Call my VIP care line and I'll make sure you get help right away!
VALUE: $97 Per Year
TOTAL VALUE: $1,591 PER YEAR
YOU PAY: JUST $5!
And, I saved the best for last…
Because as part of this special offer I'm also going to throw in a one month trial of my brand new, To The Moon E-Letter.
In this daily email I'll share with you ALL my best trading ideas…
Some days it'll be crypto breakouts.
Other days it'll be small-cap and penny stock rockets.
It's ALL yours for the first month for just $5.
Now, if you like what you see, simply do nothing, and…
We'll automatically enroll you in the lowest monthly price we'll ever charge for The Crypto Rockets War Room & To The Moon E-Letter — just $20, automatically billed monthly to your credit card.
If you don't like what you see, simply email my customer service and tell them you want to cancel… and we'll never charge your card again for this service.
No matter what you choose, though, it's critical you act fast…
Before this crypto trade goes to the moon! So…
FILL OUT THE FORM BELOW TO GET STARTED, AND I'll SEE YOU LIVE ON

Thursday, December 07, 2023

AT 1 PM, EASTERN…
WHERE YOU'LL LEARN THE #1 CRYPTO TRADE FOR December 2023!